Below is work that I've created for Tufts Medical Center, an academic medical center located in downtown Boston, where I have been the Manager of Graphic Design and Brand Standards in the Marketing & Communications Department since 2008. Our small design group supports an office of 14 marketing and internal communications professionals. As manager, I oversee the production of printed and digital materials for internal and external audiences.
New intranet roll-out campaign: 4-week poster campaign throughout the hospital, rolled-out in 3 phases to gradually introduce employees to EVA (Employee Valued Assistant), the new face of the intranet website. First row, phase 1 posters; second row, phase 2 posters; third row, phase 3 posters.
Good Medicine, 16-page magazine
Good Medicine, 16-page magazine
CheckUp, printed and enewsletter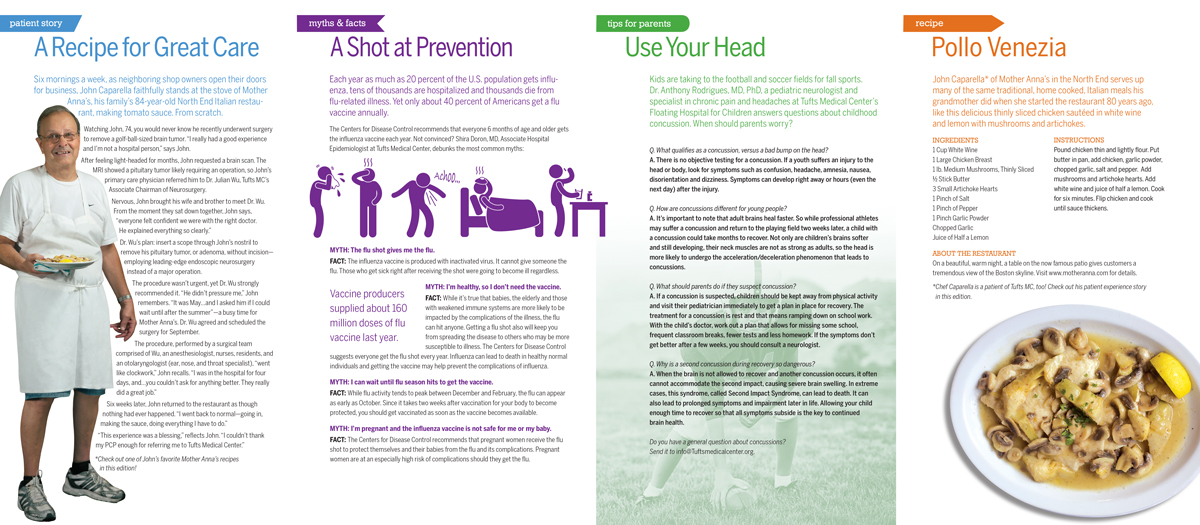 Biennial physician reference guides
Graduate Medical Education sleep campaign
Hospital Directional Sheets: In my capacity as manager of design at Tufts Medical Center, I take a special interest in improving the materials that are given to patients. I have overseen the installation of map kiosks with updated campus maps and handouts, as well as help write, edit, illustrate and design directions to specific hospital buildings (see top row below). Within our clinics, I have created a writing and design template for patient medical information, which can be ordered easily and cheaply from our local copy center. I also edit and design each sheet (see second row below).
for the CardioVascular Center at Tufts Medical Center
for Pearson Education, high school history textbook
Design Work pre-2008: Below are samples of freelance work for a variety of clients: Harvard Real Estate Services, New Jersey Historical Society, Lynn Historical Society, Foretec Seminars (Python and W3C conference materials), and Seidler Bernstein (Corning Science).